The Chainsmokers Hitch A Ride to WE Day With Martin Sheen In A Golf Cart
What's the best way to travel? By golf cart, of course — just ask The Chainsmokers. In a new funny video, the duo's Drew Taggart and Alex Pall hitch a ride with driver Martin Sheen to WE Day.
In the short video, it's like Uber but for golf carts, as Sheen picks up Drew and Alex in the parking lot to transport them to the WE Day festivities. As the guys are on the "WE Day Shuttle," Martin asks them, "So, you two are some sort of band?"
"Yeah, we're called The Chainsmokers. We're stoked to perform and honor these young world changers," Drew explained.
Confused, Martin told them, "Well, you know, there's no smoking allowed inside WE Day," to which Alex replied, "Martin, we don't actually smoke." And good thing, because according to Martin, it would be a "pretty hefty fine," if they did!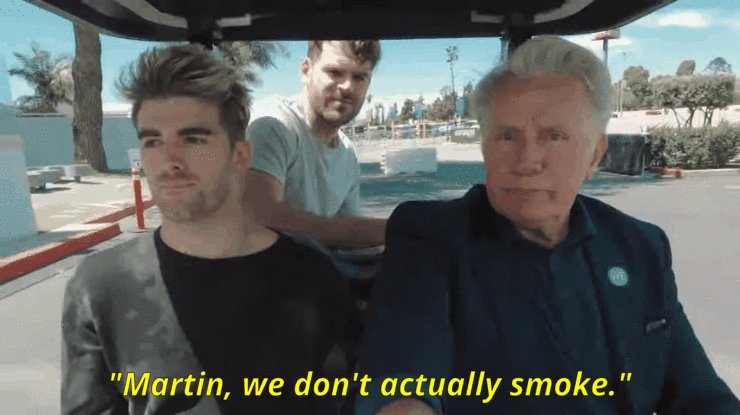 The Chainsmokers were just one of the many acts who performed at this year's WE Day, along with artists like Dierks Bentley, Jordan Fisher, Jessie Reyez, and more. And hosted by John Stamos, among the celebrity guests and speakers were Jennifer Aniston, Will Ferrell, Selena Gomez, Whoopi Goldberg, Cyndi Lauper, and Lilly Singh, among others like the founders of the #NeverAgain movement and organizers of The March for our Lives Jaclyn Corin and Cameron Kasky.
WE Day is a celebration honoring youth and families across the country who, through their belief, passion, and energy, are working to change the world for the better. Through inspiring speeches and moving performances, the annual celebration acknowledges everybody aiming to make an impact.
Fans can tune in to the fourth annual WE Day Special on Friday, August 17th at 8 p.m. ET/7 p.m CT on ABC. Watch the 2018 WE Day Special trailer below to get a small taste of the amazing things you will see.